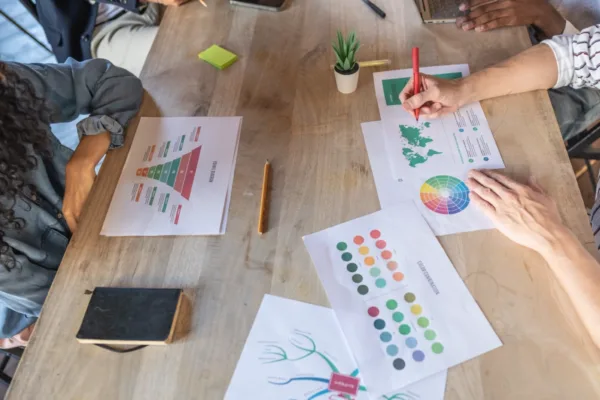 In today's fast-paced digital world, capturing the attention of your target audience can be a daunting task. With an ever-increasing amount of content available online, it's important to stand out from the crowd and make a lasting impression. That's where visuals come in! From eye-catching graphics to stunning photography, incorporating images into your digital marketing strategy can help you connect with potential customers and increase engagement. In this blog post, we'll explore the power of visuals and how they can take your digital marketing strategy to new heights. So grab a cup of coffee and let's dive in!
Introduction: The Power of Visuals
It is no secret that we are living in a highly visual world. Everywhere we look, there are images and videos vying for our attention. And given that the average person's attention span is now shorter than that of a goldfish, it's no wonder that businesses are turning to visuals to capture and hold their audience's attention.
There is a reason why so many businesses are using visuals in their marketing campaigns. Studies have shown that visuals are processed 60,000 times faster in the brain than text, and they can boost memory recall by up to 65%. In other words, when it comes to marketing, a picture really is worth a thousand words.
Benefits of Using Images in Digital Marketing Strategies
Images are a powerful tool that can help boost your digital marketing strategy. Here are some benefits of using images in your marketing:

Different Types of Images Used in Digital Marketing
Different types of images can be used in digital marketing to achieve different objectives. Here are some common types of images and the purposes they serve:
Tips for Optimizing Your Visual Content
In order to make your visuals more effective, consider the following tips:
1. Use high-quality images:
Low-quality images will reflect poorly on your brand and can turn off potential customers.
2. Use images that are relevant to your audience:
Not all images will be relevant to all audiences. When choosing visuals, think about who you are trying to reach and what message you want to communicate.
3. Use images that are visually appealing:
In addition to being relevant, your visuals should also be eye-catching and aesthetically pleasing. Otherwise, they won't capture attention or hold it for very long.
Alt text is important for two reasons – first, it helps search engines index your images so they show up in related searches; second, it provides a text alternative for people who are visually impaired and using screen readers.
5. Use captions and calls to action with your visuals:
Make sure your visuals are working hard for you by including captions that explain what the image is all about, as well as calls to action that encourage viewers to take the next step (such as clicking through to your website or signing up for your email list).
6. Experiment with different types of visuals:
Don't be afraid to mix things up and try different types of visuals, such as infographics, GIFs, videos, and so on. 

In conclusion, it is clear that visuals are extremely important when it comes to digital marketing. By utilizing images in your online presence, you can instantly capture the attention of potential customers and make an impact on their buying decisions. Images have the power to boost engagement, create a positive brand image and help establish trust – all essential components for a successful digital marketing strategy. So don't forget to include attractive visuals in your marketing strategy!